Shopping Cart
Your shopping cart is empty!
Доступные варианты

DGH-55B Pachmate 2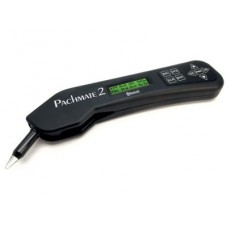 The DGH 55B Ultrasonic Pachymeter (Pachmate 2) is a handheld, battery operated, ultrasonic device that is used in the ophthalmic field for measuring the thickness of the human cornea.
General
Item
DGH-55B Pachmate 2
Company
DGH Technology, Inc.
Approval
US FDA & CE Mark
Product Number
DGH 55B
Features
<ul><li>Automatic Report Generation Using Wireless Bluetooth® Technology. <li>Ease of use. Turn on power and the Pachmate 2 is ready to take measurements. <li>Accuracy & Reproducibility. Proven measurement algorithm yields accurate, reproducible measurements in a fraction of a second. <li>Obtains and stores up to 25 measurements in less than 2 seconds. <li>Personalized Configuration Memory. <li>Durable Portability. Handheld, battery operated, and lightweight. <li>Detachable and Rotatable Probe.</li></li></li></li></li></li></li></ul>
Catalog Number
PAC-DGH55B
Quantity
EA
Scan Type
Pachymeter
Dimensions (WxHxD)
1.6" (41 mm) x 7.1" (181 mm) x 0.9" (23 mm)
Biometry Measurement
Measurement Option: Standard Unit Range (µm): 200 to 1100 µm Accuracy (µm): 5µm Display Resolution (µm): 1 µm
There are no reviews for this product.
Write a review
Your Name:
Your Review:
Note: HTML is not translated!
Rating:
Bad
Good
Enter the code in the box below:
Inquiry about the product DGH-55B Pachmate 2
Your Name:
Your Email:
Message:
Note: HTML is not translated!
Enter the code in the box below: